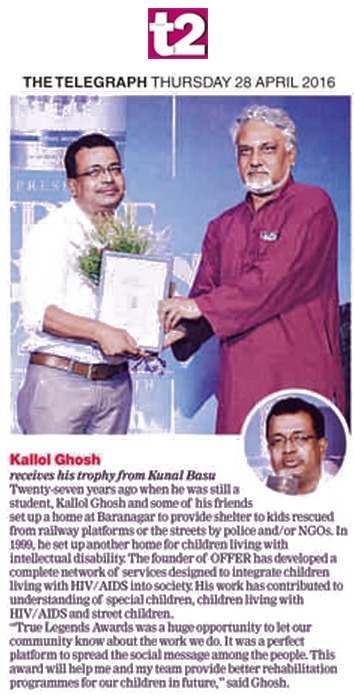 Kallol Ghosh is a man of very few means, but the goal of his life is crystal clear. It's surprising that two completely unrelated people had a major impact on his life and what he does with a passion. Ramakrishna had said that "Through selfless work, Love of God grows in the heart"; and Ghosh chose exactly to do that.
The compassionate crusader has dedicated his life for the betterment of the children of lesser God. Children, who were left to fend for themselves, were picked up by Ghosh and tended with care and compassion. He is relentless in his pursuit of rescuing the under-privileged children from a hostile atmosphere of HIV illness, poverty, drugs, malnutrition and delinquency and rehabilitating them through a sustainable program in his homes.
Born in an upper middle class family, Kallol's heart lay in bettering the world for the less fortunate. Couple of decades down the line, he is a social-worker, an educator, a researcher and a vocal advocate for children's rights. Kallol's attitude is primarily preventive in nature and promotes a sense of confidence, character, competence and connectedness of that population to their family, peers and community. He tries to provide a range of support and services in such areas as vocational training, health education, recreation, cultural understanding; a sense of tolerance and expansion, artistic expression, environmental awareness and the development of youth leadership involving conflict resolution and decision-making skills.
It is a firm belief of Kallol that all disabled children and young people should have access to information, assessment and wherever possible services which provide social, Health and educational support necessary to maximise and bring our potential to lead a socially inclusive and relevant life.
Kallol became engaged as a National Service Volunteer, NYK, Ministry of Human Resources Development, and Government of India in the year 1988. He joined the United Nations as a Volunteer in the year1989 and was posted in Nepal for two years. Ghosh worked with UNICEF and initiated activities concerning Child Rights during the year 2000-2003. Ghosh supported street children under Oxford and Cambridge Universities Programme and worked with the National Legal Services Authority, New Delhi for Right establishment of poor people. Currently he is working with the Street Children, children with HIV/AIDS, institutional care for the mentally and physically challenged children.
Anandaghar, or the Abode of Joy, run by OFFER or the Organisation For Friends, Energies & Resources under the stewardship of Kallol Ghosh, is the sole paediatric palliative care center in eastern India . Starting from three children, the number of children has now risen to 5000; where Kallol along with his team takes care of them through a support system that's just tailor made to improve their quality of life. Most of Anandaghar's children comprises of orphans and the marginalised because of their HIV status.
Anandaghar tells the story of some HIV Positive teenagers who refused to give up, dared to dream & gave birth to Cafe Positive – Asia's first cafe run only by HIV Positive young adults under the mentorship of Kallol. It also narrates how few good people stepped forward to open the doors of hope of these brave hearts. Café Positive, a fabulously cosy café, has added a bright colour of positivity in the cityscape, welcoming people warmly into their folds.
Apanjan, is another care giving unit by Ghosh that copes with the problems of mentally and physically challenged children.
Currently Kallol Ghosh's NGO, OFFER has been serving children who are severely underprivileged in the city of Kolkata and semi-urban areas of West Bengal providing institutional specialized healthcare, education, psychosocial support to the children with HIV/AIDS, mentally challenged children and 5000 children in need.
How he rescued some of these children are almost story-like, but what's most interesting is that he gave them a purpose to their lives by not only educating them but also creating a café, where these young-adults, just out of their teens , create an atmosphere convivial enough to have regular patrons.
OFFER currently works for children who are in need of assistance in and around the urban and rural areas of North and South 24 Parganas and Kolkata districts. Community issues are also taken up through direct intervention and campaigns and some of OFFER's major programme includes-
Community based education sponsorship[ programme
Rehabilitation for children living in Railway Platforms
Residential care units for children without parental care
Residential care units and community schools for children with learning difficulties
OFFER also maps the ground realities of children from families of convicted persons in partnership with the National Legal Services Authority New Delhi and Directorate of correctional services, Govt of West Bengal.
He has been feted with numerous accolades among which is the prestigious Ashoka Fellow and Honorary Doctorate Award by the Italian Government. As described in their words, to be an Ashoka Fellow one has to attain a level of dedication : ' Ashoka Fellows are leading social entrepreneurs who we recognise to have innovative solutions to social problems and the potential to change patterns across society. They demonstrate unrivalled commitment to bold new ideas and prove that compassion, creativity and collaboration are tremendous forces for change. Ashoka Fellows work in over 60 countries around the Globe in every area of human need. All Ashoka fellows must undergo a rigorous search and selection process in which they demonstrate that they fully meet Ashoka's selection criteria".
According to Kallol, on a global scale the magnitude of this burning issue is so complex and huge that he has reduced the aperture of his vision so that he can justify his work and concentrate his energy on the things that he can achieve.
As Stephen Hawking had said… "We are very, very small, but we are profoundly capable of very, very big things". That is exactly what Kallol Ghosh has set out to achieve.